Your Bespoke Real Estate & Holiday Rentals on The Costa del Sol
At first sight, the Spanish real estate market is a bit of a maze. The further you walk into it, the easier it is to lose your way and become disorientated. That's why you need an inside-man to make sure you get what you're looking for, and that you do not have to flip through thousands of properties to find the one that suits your needs.
Whether you're buying or selling, having someone on location to take care of everything from the viewings to the final documents is an investment you will never regret. With me in your corner, you'll never have to be concerned about anything in the long, and sometimes, winding process.
Costal del Sol is, hands down, one of the prime locations for European holiday makers. That's why it pays to invest in property on the sunshine coast, and why it pays to have someone on site to manage the rental process while you do what you do best.
Whether you're looking for the next perfect holiday home for you and your family – or you have a property, you want to rent to holiday makers, 4YOURHOME.ES is here to make your dreams come true.
Falulous 4+1 Bedroom Villa in Torreblanca, Fuengirola with Sea Views
Stunning 4-Bedroom Villa with Private Pool and Gorgeous View
Exquisite 5-Bedroom Villa in the Heart of Elviria, Las Cumbres
This exclusive villa features a  stunning sea view. The ultimate holiday home for guests who want an over-the-top experience.
This amazing villa is the perfect retreat that will accommodate and gratify every desire you might have for the perfect Spanish holiday.
This amazing villa is the perfect retreat that will accommodate and gratify every desire you might have for the perfect Spanish holiday.
This amazing villa is the perfect retreat that will accommodate and gratify every desire you might have for the perfect Spanish holiday.
Las Lagunas de Mijas, Andalucía
This amazing villa is the perfect retreat that will accommodate and gratify every desire you might have for the perfect Spanish holiday.
Urb. Los Iris, Luxury Apartments
Have a perfect family holiday in this sleek apartment at the heart of a tranquil, gated complex.
Hi, I'm Mikael, owner and founder of

Living and owning property on the Costa del Sol, I know first-hand what kinds of considerations, concerns and even frustrations the Spanish property market can entail. I also know how to make all of your potential headaches go away.
Your peace of mind is my priority
Yes, it might sound like a cliché, but I'm 110 percent serious, because I do truly value making sure that you never have to worry about anything when it comes to property in Spain.
Whether you're looking to buy, sell or rent, I am here to help you make the process as smooth as possible.
And you don't have to take my word for it – simply check out what my other clients are saying about the 4YOURHOME.ES-experience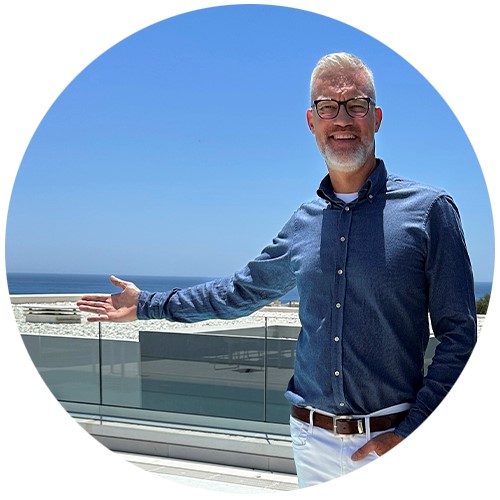 "Mikael was a recommendation and he has looked after our property since we purchased in October 2019. It's for our sole use and so can sometimes be left unoccupied for a couple of months, sadly more during the pandemic. I look forward to seeing his videos as it's always nice to see the spanish sunshine and blue skies as we are based in the UK. The video's are very thorough from the moment he opens the door until leaves. He checks the electrics and runs fresh water into the sinks and toilets. He has on occasion arranged a handyman for us if it's been required. Mikael's english is excellent, he is a lovely guy to deal with, very professional, courteous and above all extremely reliable and trustworthy."
Many questions can arise in a property transaction regardless of whether this is at home or abroad. Karim Zaza knows all about this: "As the purchaser you will naturally have questions, and there is nothing worse than if you have doubts about something, and you don't really get an answer, because then you may end up getting the wrong story. If you get things clarified then you have peace of mind. This is what it was like for me."
"We needed a reliable property manager to assist us with our existing and upcoming properties in Andalucia. After the first meeting with Mikael it was clear for us that Mikael's Service what we were looking for. We already realised some small and bigger maintenance projects. Mikael managed the obstacles smooth and reliable. Now he is our local for property management, support and even real estate development."
"We were only in Spain for a week and I met Mikael half way through our trip. Given the short timings Mikael managed to get me in to see a few apartments. Those first few viewings helped me to realise what I wanted and the location. On our return Mikael heard of an apartment for sale in the block I wanted – we had a virtual viewing and I could see the apartment was perfect. So we offered and secured it."
"Mikael is a very honest, social and trustworthy person. That is what you notice about him first. He looks after our property in Mijas when we are not there. He also takes care of the car so it is ready to go when we arrive. It gives me peace of mind to know that someone who we trust is looking after our investments in Spain."
"We are super happy that we chose 4youhome.es as they are always available when you contact them. It is nice to know you can contact someone to take care of your property while you are in Denmark. Knowing that our property is being watched and taken care of is a wonderful feeling. I can highlight an experience we had last year. A few hours before leaving for the airport, we discovered a leaky water pipe. We contacted Mikael and 4YourHome.es about the problem and already the next day, they were Facetiming us and sending pictures, to show that the task was solved and no water pipes were dripping anymore. It is great that such tasks can be solved for you when you are in a hurry to make your flight."
"Thanks for the hospitality! We hade a great holiday in this villa.
Mikael is a great host."
"What an amazing house - everything we could possibly need in a beautiful setting. Mikael is the most wonderful host and we look forward to coming again"